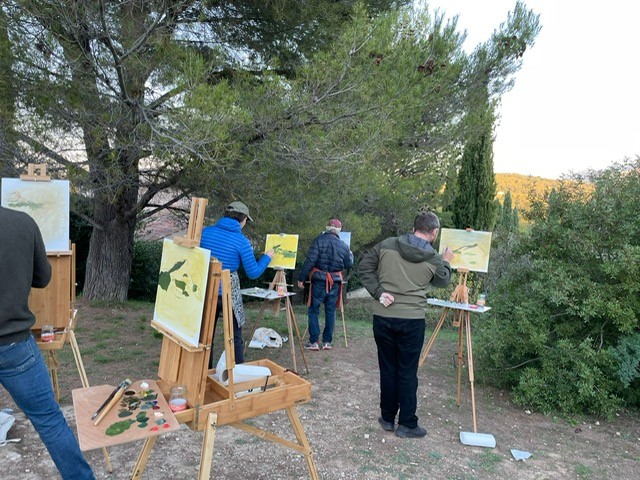 William A Hindle
Founder, Instructor
With 42 years of leadership experience, Bill is bringing his entire self to this experience. After authoring Business Culture: How to Create your Masterpiece, Bill wanted to continue to follow his passion and share his insight with other business leaders.
Bill is a captivating speaker and passionate teacher. His dual role as CEO and art student has given him a unique perspective which has allowed him to develop this program. 
Tyson Snow
Resident Artist
"Standing where the Masters did is a privilege. Connecting with art, beautiful countryside and likeminded people is rejuvenating and rewarding. This opportunity for added enrichment boosts my energy and drives creativity."
Tyson Snow started showing his work in 2004 in The Marshall Gallery in Scottsdale, AZ. He had near instant success which brought a growing public interest in his work.

He has been published, interviewed and featured in some of the most prestigious art magazines, newspapers and podcasts along with winning awards and placing 1st in national and international museum and juried art exhibitions.

Tyson shines in a variety of mediums, but it is his award-winning sculpture and oil painting that brings him to The Hindle.

His ability to convey complex techniques to beginning artists is an integral part of exploring the intersection of business and art.

Ronald Guillaume
Master Chef
"Today, I do what I love and where my heart is."
Chef Ronald is a private chef in Provence and around the world. His passion comes from his father who was also a private chef in Paris for important families and renowned restaurants.
By 14 years old he was sous-chef at his father's restaurant, then after three years of culinary studies was sous-chef of Maitre, Chef Michel Pommier of Chateau D'Aveny, elected best worker in France and awarded a Michelin star as chef at the restaurant Le Cabouillet, in L'isle Adam.
Chef Ronald has fun doing what he loves.
Nathalie Besson
The French Connection
"One of the best weeks of my life" is how I felt when I participated in The Hindle's first program. Understanding the combination of leadership, art and soul is fascinating; staying in a castle in Provence, painting in the footsteps of the greatest painters and savoring the cuisine of a great French chef is unforgettable; being part of the team is a privilege."
Nathalie Besson is the coordinator of The Hindle in France. With degrees in law, management, tourism and French, she discovered her true professional path in the United States 25 years ago when she became a French teacher for foreigners. Since then, she has taught French in France and abroad to thousands of people from all over the world and has created two schools, in Brazil and in Aix-en-Provence, where she works in parallel with The Hindle.
In love with painting and all forms of art, a student of the soul since her childhood, a Reiki master, passionate about human relationships and leadership as well as languages and foreign cultures, Nathalie welcomes you with enthusiasm in her Provence.
Brian Fritz
Coordinator
"I am grateful to be a part of this team. I feel like I get to be a part of something that is making people's lives better. Learning from the connection between art and business can make work a more meaningful experience."
Brian Fritz is the coordinator of The Hindle in the United States. Brian graduated from Temple University with a dual major in History and Religious Studies and then worked in the legal field before joining the team at HindlePower where he was a part of a team that worked on a variety of projects that focused on employee enrichment. Brian is studying for a Master's Degree in Counseling while researching phenomenological experiences of the term "spiritual awakening".
Connect with us to
learn more
Enter your information below to learn more about our leadership program and other projects. A member of The Hindle team will be in contact quickly and send you more information.
"There is nothing more truly artistic than to love people."
~Vincent Van Gogh
Learn More about the Reservation Process
Enter your information below to learn about how to RSVP yourself, or your team, for one of 16 spots available. Our Retreat will fill up quickly, and we do not want you to miss out. A member of The Hindle team will be in contact quickly and send you more information.
"There is nothing more truly artistic than to love people."
~Vincent Van Gogh